WHAT WE DO
The 4D Bio³ Initiative is a multidisciplinary biomedical research program that explores and adapts promising biotechnologies for Warfighter benefit. The program is currently housed in a 10,467 ft² multi-tool facility and supports a broad array of research and education applications. Our facility includes a biofabrication suite, tissue culture room, bioreactor and sensor facility, distance education and training facility, and medical/surgical simulation room. Our capabilities allow for military medical applications and translations to the fields of precision medicine, biomarker discovery, drug and vaccine development, medical technology validation, bio-sensors, environmental and occupational health, and regenerative medicine. 4D Bio³ aspires to be a DoD/Federal resource and welcomes opportunities for collaboration within the DoD and with other Federal agencies, but also with other non-Federal academic institutions, and industry partners.
4D Bio³ was originally funded by the Defense Health Program (DHP) as a 5-year program to promote the development and application of advanced biotechnology, notably bioprinting for research pursuant to DoD priorities and ultimately for translation to clinical medical care and training solutions for the Warfighters, Veterans, and their families.
Our Partners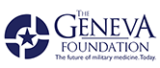 COLLABORATORS
We aim to decrease redundancy of effort in the development of novel biotechnology solutions for our warfighters. Through the establishment of a DoD bio-fabrication center and laboratory at USU, we hope to unify efforts to expedite DoD adoption of emerging biotechnology innovations.
We are always seeking like-minded research collaborators within the DoD, and with other federal, industry, and academic institutions. By partnering with us you have:
Opportunity to be part of an innovative, multi-disciplinary team
Networking opportunities, with a gateway to current state-of-the-art technology
Possibilities to collaborate with industry partners, along with access to licensing and transitional technology
Ability to have a government team for Independent Verification & Validation (IV&V) for your technologies
CURRENT PARTNERS
The Geneva Foundation
The Geneva Foundation (Geneva) is a non-profit organization headquartered in Tacoma, WA. Established in 1993, Geneva advances military medicine by delivering full spectrum scientific, technical, and program management expertise in the areas of federal grants, industry-sponsored clinical trials, federal contracts, and event management.
CONTACT
If you would like to collaborate with our team, please fill our Collaboration Form.
Director
Dr. Vincent Ho
vincent.ho@usuhs.edu
Associate Director of Research
Dr. Tony T. Yuan
tony.yuan@usuhs.edu
Associate Director of Research
Dr. Kristin H. Gilchrist
kristin.gilchrist.ctr@usuhs.edu
Associate Director of Operations
Ms. Miranda Bethay
Mbethay@genevausa.org
Offsite Location
9410 Key West Ave
Suite 150, 200
Rockville, MD 20850